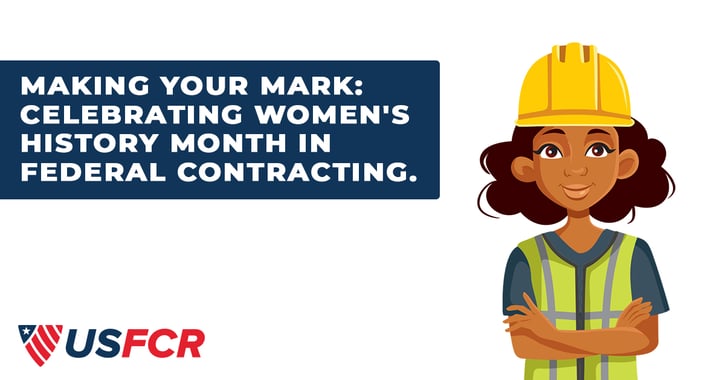 March is Women's History Month, a time to celebrate the significant contributions of women throughout history. This month, we focus on the outstanding achievements of women in federal contracting, a traditionally male-dominated field.

As a woman business owner, you are likely familiar with federal contracting. However, you may not be aware of the numerous benefits and resources available to women. The federal government aims to award at least 5% of all contracting dollars to Women-Owned Small Businesses (WOSBs). The Women's Business Enterprise (WBE) certification program allows women-owned businesses to compete for contracts with corporations committed to supplier diversity.
During Women's History Month, we are inspired by the remarkable stories of women-owned small businesses (WOSBs) breaking through barriers and succeeding in traditionally male-dominated industries. Malarie Taylor, the owner of Near Me, LLC, a landscaping and property management company based in Fontana, California, is a prime example. To expand her business into government contracting, Taylor sought the Women-Owned Small Business certification and the Economically Disadvantaged Women-Owned Small Business designation, which helped narrow down competition for government contracts.

Taylor persevered and secured her first federal contract in under four months, illustrating the significance of WOSB certification and the potential opportunities available for women entrepreneurs in federal contracting. By taking advantage of available resources, such as the Women-Owned Small Business program, women-owned businesses can compete for government contracts and achieve their goals. As we celebrate the contributions of women throughout history, let us also celebrate the trailblazing women entrepreneurs who are making history today.

Although women in federal contracting still face challenges, progress is being made toward increasing opportunities. In 2019, WOSBs received 4.7% of all federal contracting dollars, approaching the 5% goal the Small Business Administration set. While bias and discrimination may still be present in the bidding process, efforts are being made to level the playing field and create a more equitable environment for women-owned businesses to succeed.

The number of WOSBs participating in federal contracting has steadily increased, and many inspiring success stories of women who have broken through barriers to succeed in this industry abound.

So, what can you do to succeed in federal contracting as a woman business owner? Here are some actionable tips and best practices:

Get certified: The WOSB and WBE certification programs can provide a competitive advantage in federal contracting. Make sure you meet the eligibility requirements and apply for certification.

Network: Attend networking events and join professional organizations to build relationships with government agencies and prime contractors. This can help you learn about upcoming opportunities and make valuable connections.

Seek mentorship: Look for mentorship programs that can provide guidance and support as you navigate federal contracting. Organizations like the National Association of Women Business Owners and the Women's Business Center can provide resources and mentorship opportunities.

Use online resources: Many online resources are available to help you navigate federal contracting, such as the SBA's Contracting Assistance Guide and the General Services Administration's System for Award Management (SAM).

In addition to these tips, consider contacting US Federal Contractor Registration (USFCR) for assistance with registrations, bid writing, and consulting. USFCR specializes in helping small businesses succeed in federal contracting and can provide valuable support as you navigate this complex landscape.

While women still face challenges in federal contracting, there are many opportunities for success. By taking advantage of available resources and implementing best practices, women business owners can succeed in this industry and make their mark. Let's celebrate Women's History Month by recognizing and honoring the accomplishments of women in federal contracting and beyond.


To speak with a Registration and Contracting Specialist, Call: (866) 216-5343