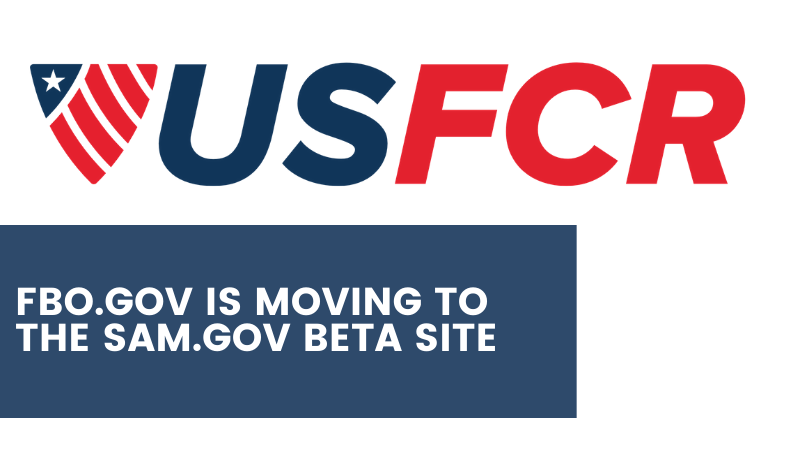 The GSA has announced that FedBizOpps.gov (FBO.gov) will begin to be decommissioned and its functionality transitioned into beta.SAM.gov starting on November 8, 2019.
What is FBO?
FBO (known as FedBizOpps) is how federal contracting agencies post notices on proposed contract actions valued at more than $25,000. These notices include solicitations, pre-solicitations, sole source justifications, and other notices.
New Accounts and Migration
In order to transition roles from FBO.gov to beta.SAM.gov, you will need to create a new account in beta.SAM.gov. As part of the ongoing efforts to enhance security and to move to single sign on for all IAE applications, GSA is implementing login.gov in beta.SAM.gov. A few weeks before the transition, you will need to create a new login.gov account or be ready to use your existing login.gov account. You also will be able to use your government issued CAC/PIV card to log in. Government officials who have roles in FBO.gov will be required to complete a simple process to migrate their roles. By providing your username and password from FBO.gov on beta.SAM.gov, you will inherit all the roles you have now.
NOTE: Legacy users will be able to migrate their roles only if their FBO.gov account is active. This means their FBO user account password cannot be expired.
What Action is Required by You?
If you are a USFCR SAM.gov verified vendor, we advise you to begin to use other resources for researching government opportunities. Your choices are to use USFCR's Advanced Procurement Portal (APP) or learn the limited SAM.gov beta site (beta.sam.gov) functionality.
Contact USFCR to Review Your SAM Registration
If you are a current USFCR customer, call (877) 252-2700 ext. 1 to speak with us about your options for replacing FBO.gov. Our knowledgeable Acquisition Specialists will help you navigate this critical federal contracting change and help enhance your contracting opportunities.
New to Government Contracting and Need a SAM Registration?
If you are interested in government contracting, call (877) 252-2700 ext. 1 to speak with us about your need, or click below to start your SAM Registration today.
To find opportunities for free, try our search page.