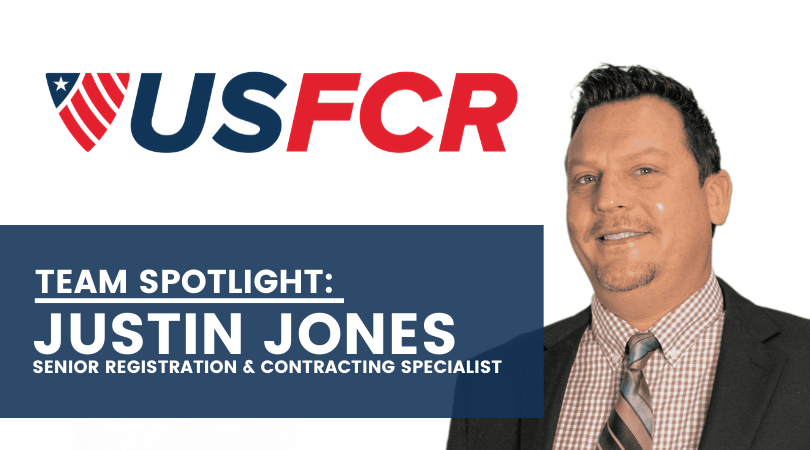 Since 2012, Justin Jones has worked with many clients in the tech, construction, and small business manufacturing industries. He has helped businesses win contracts by applying proven federal marketing solutions. 📆 Schedule a call with Justin.
At US Federal Contractor Registration (USFCR), Justin's job as a Senior Registration & Contracting Specialist is to bridge the gap between businesses and the federal government. Justin assesses businesses and their objectives and connects them to the right USFCR resources for reaching them. This can range from various set-aside registrations, USFCR Academy, and the Advanced Procurement Portal (APP).
As a Senior Registration & Contracting Specialist, Justin Jones specializes in the following:
Federal Spending Forecasting
Opportunity Search
Contracting Strategy
Small Business Set-Asides

HUBZone
8(a) Business Development Program
Service-Disabled/Veteran-Owned Small Businesses (SD/VOSB)
Economically-Disadvantaged/Women-Owned Small Businesses (ED/WOSB)
No matter your experience in the federal marketplace, Justin Jones will help you establish business relationships with government agencies.
Justin Jones Testimonials
"Justin Jones has been very helpful and extremely professional. I would recommend this service since they simplified the entire process."
- Lorraine H.
"Justin is consistently professional and easy to work with. He makes the renewal process simple."
- Kimberly Vann, Safer Foundation

Justin Jones on the USFCR Blog
Justin contributed valuable insight about simplified acquisitions on USFCR's podcast as a guest on Ep. 26, The Government Buys...Simply.
Read about A&E Haberdashery and Metropolitan Logistics, two of the many successful businesses Justin has worked with on their journey to their first federal contract.
About
Registration & Contracting Specialists