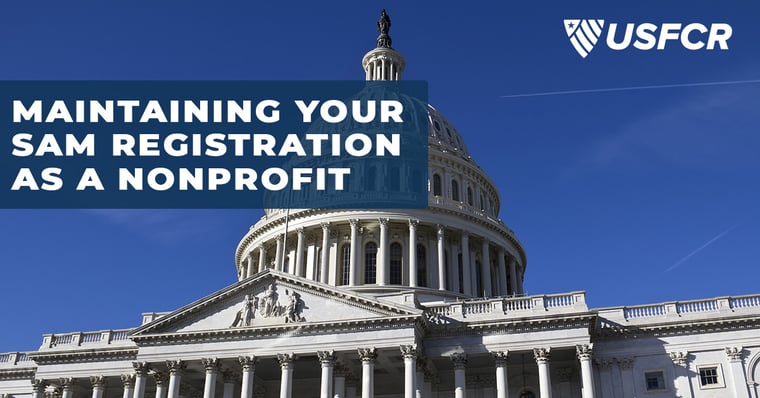 You may have considered applying for government grants as a nonprofit organization. Perhaps you have already completed your SAM registration and are now wondering what you need to do to maintain your registration. Worry not because we've got you covered!
Maintaining Your Nonprofit's SAM Registration for Government Grants
To maintain your SAM registration as a nonprofit, keep your information up-to-date. Any changes to your organization's name, address, or contact information should be updated in SAM immediately. This will ensure that the government can reach you when necessary and that your business is accurately represented in the SAM database.
Renew your SAM registration on time. SAM registrations expire after one year, so you must renew annually. Missing the renewal deadline could result in your SAM registration being deactivated, which could mean losing out on potential grants.
It's also important to monitor your SAM registration regularly. Check your SAM registration status to ensure no errors or discrepancies. Maintaining accurate information can help you avoid potential issues and keep you in good standing with the government.
Keep your business records organized and up-to-date. This includes financial records, tax documents, and any other information that could be required during a government audit. Having well-organized records will make responding to government requests easier and help you maintain your SAM registration status.
The Importance of Your MPIN
Understanding the importance of your MPIN (Marketing Partner Identification Number) is crucial in maintaining your nonprofit's SAM registration. Your MPIN is a unique security key created in SAM and utilized in other systems, such as grants.gov, to protect your organization's information and ensure that only authorized personnel can access it.
It is essential to keep your MPIN confidential and change it regularly to ensure the security of your organization's SAM account. Remember that maintaining your MPIN is vital in renewing your SAM registration annually.
SAM Exclusions: Their Impact on Nonprofits Seeking Government Grants
Before we conclude, let's take a moment to talk about SAM exclusions and what they mean for nonprofits seeking government grants.
SAM exclusion refers to suspending or debarring an organization from receiving government grants. This happens when a nonprofit has violated federal laws, regulations, or policies, such as defaulting on a contract. It could be for fraud, bribery, or other unethical behavior. When an organization is excluded from SAM, it cannot apply for or receive government grants.
To avoid SAM exclusions, you must comply with all government regulations and maintain a strong ethical stance in your nonprofit's operations.
USFCR's Role in Maintaining Your Nonprofit's SAM Registration
If USFCR has assisted with and maintained your nonprofit registration, you can rest assured that we will handle any updates required to keep your SAM registration current and compliant. Our team of experts closely monitors changes in government regulations and ensures that your organization's information is updated accordingly.
This service saves you time and effort and minimizes the risk of errors or omissions that could lead to suspension or debarment. As a trusted partner, USFCR is dedicated to helping your nonprofit organization navigate the complexities of government grants and maintain a strong SAM registration standing.
To speak with a Specialist about your maintaining your nonprofit, Call: (866) 216-5343