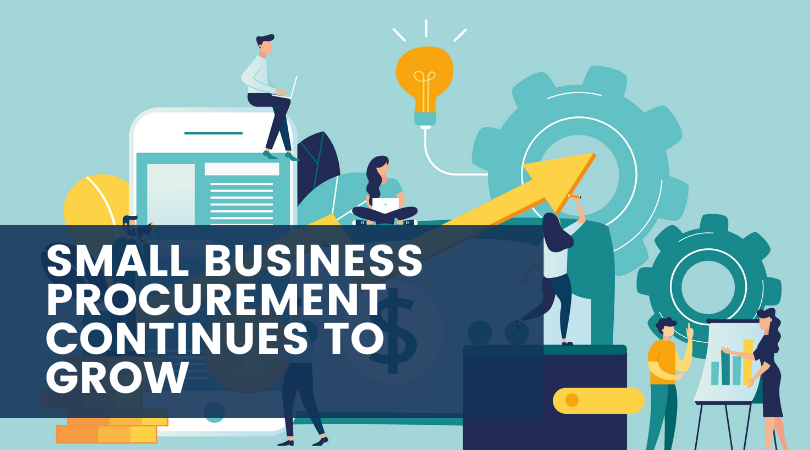 The results are in. The Small Business Administration (SBA) released its FY2019 Small Business Procurement Scorecard. This scorecard serves as an annual report showing if federal agencies met their small business contracting requirements. Although things look dismal in the commercial sector, the federal sector is still strong on small business spending.
So if you're a small business owner who is considering government contracting, this is the blog post for you.
Here, we're going to cover the following:
Let's go.
Small Business Government Contracting
One of the biggest misconceptions about government contracting is that it's only limited to large companies - Raytheon, Northrup Grumman, Amazon, Microsoft, etc.
This notion couldn't be any further from the truth. By law, federal agencies are required to attempt to reach a small business spending goal. In general, it's 23% of all prime contracting dollars.
However, there are different requirements for different types of small businesses ranging from women-owned, veteran-owned, and so on.
So what does the government buy from small businesses?
The answer - just about everything. You probably know all about the massive infrastructure projects and commercial rockets from the news, but you may have missed all the little things the government buys.
To give you an idea, here's a list of products and services that several small businesses, through working with US Federal Contractor Registration, have sold to the federal government:
Many small businesses choose to get into government contracting because:
It diversifies their streams of revenue.
Federal contracts are recession-proof.
Federal agencies are reliable/accountable clients.
Opportunities for small businesses in government contracting are constantly growing.
Prime Contract Spending in FY2019
As mentioned earlier, the government aims to spend at least 23% of prime contracting dollars on small businesses. In the FY2019 Small Business Federal Procurement Scorecard, out of the total federal prime contracting budget, 26.50% of it was awarded to small businesses.
This equals a total of $132.9 billion, which is up from FY2018's achievement of 25.05% or roughly $120.8 billion.
That's over $10 billion in growth in just one year.
Small businesses also exceed expectations in subcontracting, beating the FY2019 goal set at 29.81% with a result of 33.27%.
Here's how the spending broke down for different types of small businesses.
Women-Owned Small Business Spending
When it comes to women-owned small businesses, there are two main set-asides:
Women-Owned Small Business (WOSB)
Economically Disadvantaged Women-Owned Small Business (EDWOSB)
By federal law, the prime contracting spending goal for these types of businesses is set at 5% of the total annual budget.
In FY2018, federal agencies just barely missed their mark, only achieving 4.75% of this spending goal or roughly $22.9 billion.
During FY2019, on the other hand, agencies met their goal and exceeded it by reaching 5.19% or roughly $26 billion - a nearly $3 billion growth in one year.
Service-Disabled Veteran-Owned Small Business Spending
When it comes to veteran-owned small businesses, much like ED/WOSB, there are two set-asides:
Veteran-Owned Small Business (VOSB)
Service-Disabled Veteran-Owned Small Business (SDVOSB)
Although there are plenty of benefits to being registered as a VOSB, the government only has a set goal for spending on SDVOSBs. For prime contracting spending, the government must try to spend at least 3% of its total prime contracting dollars on SDVOSBs.
In FY2018, the government exceeded its veteran-owned goal with 4.27% of spending or $20.6 billion.
Although they exceeded their goal in the previous year, the federal government spent even more in FY2019, with 4.39% spending or $22.0 billion - a nearly $2 billion growth in one year.
Small Disadvantaged Small Business Spending
In federal contracting, "small disadvantaged business" basically means businesses enrolled in the 8(a) business development program.
During FY2018, the government greatly exceeded its spending goal of 5% by spending 9.65% on prime contracts for a total of $46.5 billion.
FY2019 saw continued growth in these types of businesses with a 10.29% spending on prime contracts, equating to $51.6 billion - resulting in an approximate growth of $5 billion in one year.
HUBZone Spending
With a great amount of gains in contracting with ED/WOSBs, SDVOSBs, and 8(a) businesses, the SBA Small Business Procurement Scorecard tells a different story when it comes to HUBZone small businesses.
HUBZone stands for "Historically Underutilized Business Zone." It's a designation primarily based on small business status and geographic location.
Every year, the federal government seeks to spend 3% of its prime contracting budget on HUBZone-designated small businesses.
However, in both FY2018 and FY2019, they missed their spending goal by nearly 1%.
Is that bad news?
For federal agencies, yes.
For small businesses, no.
If anything, it's an indication that there's a major gap that needs to be filled in federal procurement by such businesses. If your business is located within a designated HUBZone, then now, more than ever, is the time to get started in government contracting.
Getting Started in Government Contracting
As with the previous SBA Small Business Procurement Scorecards, the market for small businesses in government contracting shows no sign of slowing down.
Even with the current economic downturn, FY2020 is slated to exceed the records set by FY 2019.
So what's the fastest and easiest way to start in government contracting?
Three of the biggest hurdles small business face when entering the federal marketplace include:
Figuring out if they qualify for government contracting
Registering in the System for Award Management
Completing their small business set-aside documentation
US Federal Contractor Registration takes care of these steps with speed and precision. Since 2010, we've assisted thousands of small businesses like yours.
If you're interested in government contracting, then let's start with the first step - finding out if you're qualified.
Better yet, get qualified with a professional for free by visiting the page linked below.