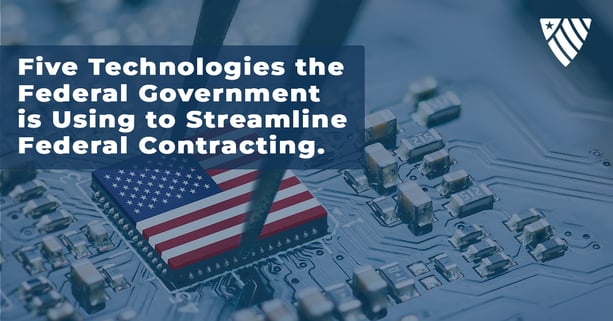 The federal contracting process is complex and lengthy, often involving multiple steps, stakeholders, and documents. It's no wonder the government is looking for ways to improve and streamline the process. Luckily, modern technology can help. In this blog post, we'll discuss the five technologies the federal government uses to improve the processes for federal contracting and contractors.
Automated Contract and Award Management Systems (ACAMS) are an important tool for federal agencies. These systems provide enhanced data collection, analysis, and reporting capabilities, helping to streamline the contracting process and reduce manual paperwork. ACAMS help ensures that all contracts comply with federal laws, regulations, and policies, and they provide a centralized platform for agencies to manage and review contracts.

Electronic Signatures (e-signatures) have become increasingly popular in the federal contracting space. E-signatures have enabled federal agencies to securely and quickly approve contracts and other documents, eliminating time-consuming paperwork and manual processing. This technology helps agencies save time and resources, allowing them to focus on more important tasks.

Blockchain technology could facilitate secure and transparent record-keeping for federal contracts. This technology could help reduce manual processes, ensure records' accuracy, and eliminate the need for paper documents. Blockchain could also help to protect confidential information, as it is a distributed ledger that is immutable and secure.

Cloud computing can help federal agencies securely store and share data related to federal contracts. This could improve collaboration and reduce costs associated with paper-based processes. By leveraging cloud computing technology, agencies can access data from anywhere and quickly share it with other stakeholders.

Artificial Intelligence can help automate and streamline contract management, helping federal agencies save time and resources. AI can also help identify areas of improvement and inefficiencies in the contracting process. AI-powered systems can detect patterns and anomalies in contracts, providing valuable insights and helping to reduce risk.

As you can see, the federal government is leveraging various technologies to improve the processes for federal contracting and contractors. By utilizing technology, agencies can save time, reduce costs, and increase efficiency. These technologies are helping to create a more efficient and secure contracting process, which will continue to evolve and improve.
To learn more about Blockchain compliance in federal contracting and USFCR's contribution, read the USFCR press release here.
To speak with a Registration and Contracting Specialist, Call: (866) 216-5343