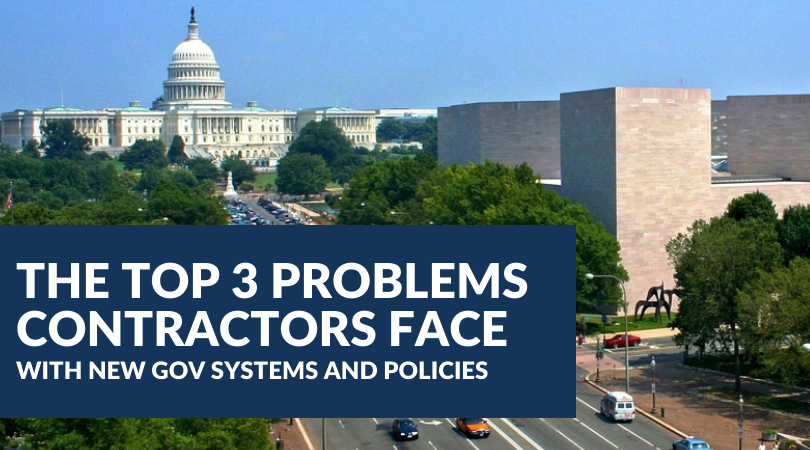 This November, FedBizOpps (FBO) is set to merge with beta.SAM.
With that in mind, it's time to discuss past big changes in the federal marketplace. That's because with every major change comes major problems. How you handle these problems will determine your success or failure in government contracting.
In this blog post, we will cover common issues that contractors face whenever the federal government implements a new policy or system. When you know what issues to expect, you'll be better equipped to handle them.
So if you're looking to:
Master the most difficult part of government contracting.

Stay ahead of these changes as well as your competition.

Be prepared for the FBO and beta.SAM merger.
This blog post is for you.
Let's go.
Struggles with Compliance
Imagine you've completed your SAM registration. You place a bid, you win the contract, and you're off to work. When it comes time to get paid, the federal agency stiffs you.
That's because, with a new policy that was implemented, your completed SAM registration is no longer compliant.
Sounds like a nightmare, right?
This happened to plenty of businesses in 2018.
Long story short, a series of scammers were sending fake emails to contractors to access their SAM registration. They would get into their registration, change the banking info, and then payments would be siphoned to a rouge bank account.
To thwart this, the GSA implemented the notarized letter requirement. This meant that all SAM registrations now required a physical letter for verification. From that point on, any changes made to the registration required a notarized letter as well.
This ordeal was a dumpster fire for contractors as well as those looking to enter the federal marketplace. Within the first few months of 2018, there was a 74% drop in newly activated SAM registrations.
Your SAM compliance isn't the only thing at risk, either.
Sometimes a change can make getting recognized for set-asides difficult. This year, the certification process for VetBiz switched from the Vendor Information Pages (VIP) to the DS Logon. A similar change occurred for the ED/WOSB and 8(a) Business Development Program. They went from the Small Business Administration's (SBA) General Login System to certify.SBA.gov.
In general, the transition for already certified contractors was smooth. There were some glitches in the system here and there, and they had to submit their information again.
This brings us to our next issue.
New System Fail
It's no secret that government sites and systems lag years behind those in the private sector. When they first get introduced, they are anything but ready. Just take a look at when healthcare.gov was first implemented in 2013.
The same applies to websites and systems that are crucial to government contracting.
Before SAM, there was the Central Contractor Registration (CCR) and the Online Representations and Certifications Application (ORCA). One of the main reasons SAM was created was to consolidate the functions of these two systems.
Another reason why SAM was implemented was the greater need for accountability in government contracting. At one point, government contracts almost always went to the lowest bidder. This led to problems in quality, and focus became the lowest risk. Out of the over 700,000 entities registered in CCR, about 1/3 of them had some minor errors. By putting in place a more rigid system, the government could weed out risks.
SAM's implementation was a disaster.
From a technical standpoint, the site would crash, and links would be broken. For users, getting registered was a much more complex process than CCR. Even if they were able to submit their information with no errors, their application would still get rejected. The backlog got so bad that some federal agencies had to waive the SAM requirement to keep functioning.
It took about two to three years before the issues with SAM were ironed out. Even to this day, getting registered is still a hassle for prospective contractors.
Support Becomes Unavailable
On its website, the Federal Service Desk (FSD) claims that its purpose is to provide help for various systems, which include:
Federal Procurement Data System (FPDS)

System for Award Management (SAM)

FedBizOpps (FBO)

Federal Funding Accountability and Transparency Act Subaward Reporting System (FSRS)

Electronic Subcontracting Reporting System (eSRS)
When things are running smoothly, the FSD will be there to help. When there's a major backup in the system caused by a change, then you're on your own.
During the transition from CCR to SAM, contractors looking for help were left on the line for four to six hours. People trying to get assistance with their notarized letters had a similar wait time.
The volume of people searching for help is just one part of this issue. Another part was a lack of communication on the government's side. Sometimes government employees will be left in the dark when a major change occurs. Even if you do get in touch with someone at the FSD or the agency you're working with, they might not know how to help you.
FBO & beta.SAM
How is the merger between beta.SAM and FBO going to play out?
No one knows for sure until the time comes. However, based on past instances, here is what we can infer:
Compliance
There's no reason to fret about your SAM registration or set-aside status. Remember, beta.SAM is just a test version. Other government systems have already been merged into beta.SAM and contractors have not reported any SAM or set-aside-related difficulties.
New System
Here is where the problems might arise. Maybe the feds have learned from their past problems. Perhaps they have not. The worst-case scenario is that after FBO has been migrated, contractors will have no other choice but to use a faulty replacement.
In another scenario, they might just leave FBO up until the new system has been smoothed out.
Support
This will depend on how well the new search portal works. If it struggles, much like other online systems put in place by the federal government, then expect the FSD to be flooded with calls. Your search for contracts could be put on hold.
Stop Worrying About Change
We're not going to lie. Some of the issues that we've mentioned in this blog post are intimidating. Still, you shouldn't let them get between you and government contracting.
That's because:
Government contracting is a recession-proof stream of revenue.

The U.S. federal government spends over $500 billion on goods and services per year.

There are exclusive contracts for small businesses.
How do major companies such as Amazon, Honeywell, Wells Fargo, and others keep up with these changes?
They hire professionals.
How can you, as a small business, keep up with these changes?
The same way.
That's because, since 2010, USFCR has provided small businesses with the people, processes, and technology that were once only available to Fortune 500 companies.
While transitioning from CCR to SAM, our Case Management team worked around the clock to learn the new system and get contractors compliant. The same applied to the notarized letter policy change and the website transitions for VetBiz, ED/WOSB, and the 8(a) Business Development Program. They know these systems, their flaws, and their nuances like the back of their hands.
When the FSD left people on hold for hours, USFCR would pick up the phone within a minute. Your job is to run your business. Our job is to take all of this hassle is off your plate.
Plus, with the beta.SAM and FBO merger, you won't have to worry about the new system has flaws. That's because we provide all of our clients with access to the Advanced Procurement Portal (APP). While the federal government has been working for years to get multiple systems combined into one, we've already achieved this...in 2017.
APP provides you with easy access to opportunity search, federal market research, and government CRM. With our custom settings, you can get updates on new opportunities emailed to you the moment they get posted.
Stop struggling and start thriving. USFCR is here to help.