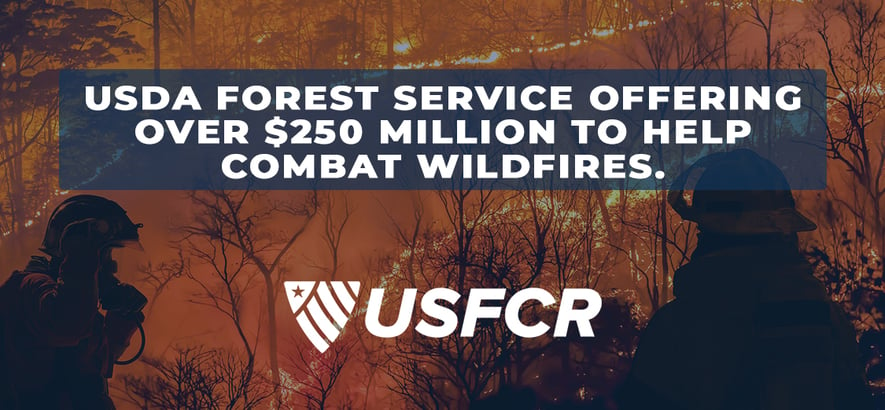 The number of wildfires occurring in the United States over recent years has led to great destruction of land and properties, and risked the lives of people located in susceptible areas. According to the Congressional Research Service, there was an average of 61,410 wildfires and 7.2 million acres of land burned across the United States from 2013 to 2022. (1)
The USDA Forest Service is currently offering aid to Western U.S. states and territories at risk for wildfires. As of August 23, 2023, the National Interagency Fire Center reported 622,775 acres of land burned by large fires, and over 17,509 personnel were assigned to contain them. (2) It is important to note that forested areas, grasslands, and shrublands are particularly susceptible to wildfires, especially if high temperatures and an extended period of drought are prevalent in the area. Vegetation such as pine needles, dry shrubs, and grasses also make areas more flammable. (3)
The USDA Forest Service's 2023 Community Wildfire Defense Grant will provide funding for projects currently implemented in a Community Wildfire Protection Plan (CWPP) less than 10 years old, or for the development and revision of said CWPPs. In terms of matching funds, those developing or updating their CWPPs require a 10 percent matching funds. Proposals implementing projects described within a CWPP require 25 percent of matching funds.
Eligible applicants include nonprofit organizations, Indian Tribes, Alaska Native Corporations, state forestry agencies, and local governments representing communities located in areas with a risk of wildfires. For-profit entities are ineligible to apply. Furthermore, applicants may apply for grant funding for a project to be conducted on lands with the following ownership types: local and state governments, homeowner associations, private lands, and Tribal/Alaska native corporations (including trust lands). Lands managed by the federal government are not eligible.
Organizations interested in reducing the risks of wildfires should contact USFCR's Grant Team for further assistance. The team offers full Grant Consulting, Writing, and Application Review and Submission services to tailor to your organization's specific needs.
The Grant Writing Team will be accepting potential applicants for the USDA Forest Service's 2023 Community Wildfire Defense Grant through September 29, 2023.
To speak with a Specialist about Grant opportunities, contact us at (877) 252-2700 or email grants@usfcr.com
Funding Opportunity Number:USDA-FS-2023-CWDG-TRIBES
1. Congressional Research Service (2023, June 1). Wildfire Statistics. https://sgp.fas.org/crs/misc/IF10244.pdf
2. National Interagency Fire Center. (2023, Aug. 23). Current National Statistics. https://www.nifc.gov/fire-information/statistics
3. Western Fire Chiefs Association. (2022, Oct. 18). When and Where do Wildfires Occur?
https://wfca.com/articles/where-do-wildfires-occur/#:~:text=Forested%20areas%2C%20grasslands%2C%20and%20shrublands,of%20drought%20and%20high%20temperatures
More Hot Grants