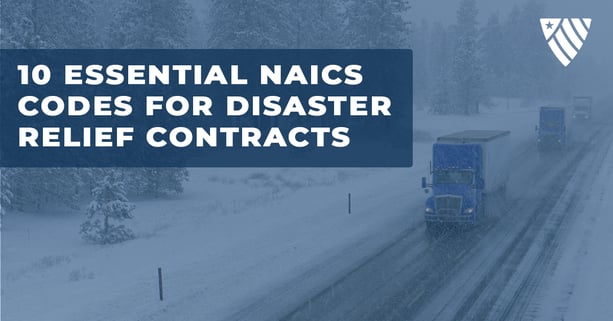 With winter in full swing, many parts of the Northwest and Northeast United States are still experiencing severe snowstorms. These storms create dangerous conditions, destroy key infrastructure and leave many without power.
You can be part of the relief efforts by providing the services the federal government needs and having the corresponding NAICS code within your registration. Relief contracts are an excellent way to get started as a contractor while helping your fellow Americans.
Federal contractors greatly impact the relief and recovery process. Utilizing these NAICS codes related to snowstorm relief contracts can position you to secure life-changing contracts.
562910 – Remediation Services
562211 – Disaster Relief Services
562920 – Environmental Cleanup Services
561210 – Facilities Support Services
561720 – Snow Removal Services
561710 – Exterminating and Pest Control Services
561990 – All Other Support Services
561320 – Temporary Help Services
561621 – Security Systems Services
561330 – Staffing Services
In extreme situations, Federal emergency personnel will be called in to assist in relief efforts. Federal contractors will provide access to specialized equipment and supplies in affected areas. They will restore utilities, clear roads, and remove debris.

Federal contractors are first responders in these situations. They ensure that roads and structures are safe and those affected have access to necessary resources. With their help, we can all stay safe and protected during disasters.