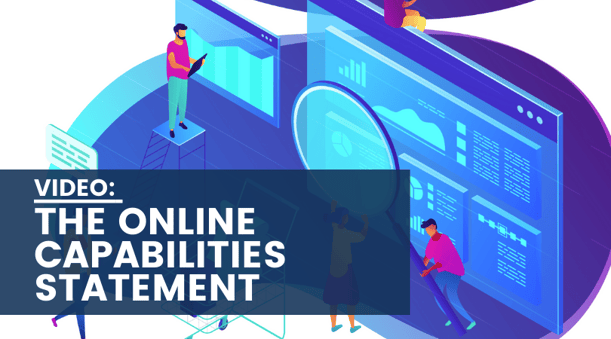 Being able to market your products and services effectively can make all the difference in your government contracting venture. That's why US Federal Contractor Registration provides every business enrolled in the Simplified Acquisition Program with an online capabilities statement.
How can an online capabilities statement help your business find success? Watch the video in this post to find out.
Watch Now
Capabilities Statements
A capabilities statement is usually a one to two page document used by businesses to advertise their products and services to government agencies.
The information they provide includes:
Legal business name and DBA (if applicable)
CAGE code
DUNS number
"About us"
Core competencies
Differentiators
Point of contact
Past performance
Corporate data
Much like a resume, a capabilities statement is a living document that gets tailored to a specific opportunity. Having a well-formatted capabilities statement not only helps contracting officers understand what your business can do for them, but it also shows that you're knowledgeable in government procurement.
Online Capabilities Statements
Online capabilities statements fulfill the same purpose as a printed capabilities statement. However, the main difference is that an online capabilities statement is going to give a more comprehensive picture of your business as constantly changing the content on one would be laborious.
Online capabilities statements are linked to a business's Dynamic Small Business Search (DSBS) profile. The DSBS is a search portal used by contracting officers and prime contractors alike to find vendors who can help them reach their small business spending goals.
The Simplified Acquisition Program
Online capabilities statements are available through USFCR's Simplified Acquisition Program (SAP). The SAP is the one-stop solution for businesses looking to venture into government contracting. In short, it provides vendors with compliance for government contracts along with marketing materials and learning resources to help them succeed.
Components of the SAP include:
Equipped with these resources while putting in the hard work, many businesses have found success in the federal contracting. Here are just a few of them:
Stay Current on Government Contracting
For more videos, click the "Videos" tag below. To get the latest government contracting updates, subscribe to the USFCR blog. This video and others produced by USFCR can also be found on YouTube.