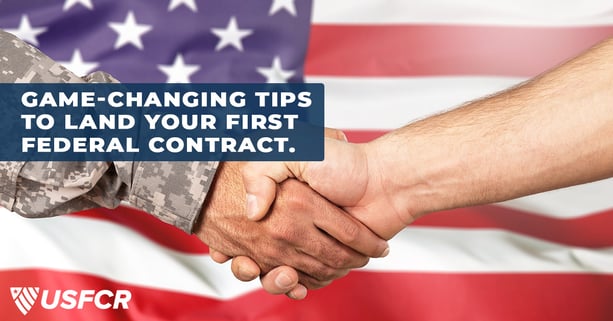 Breaking into the world of federal contracting can be daunting for new businesses, with a complex procurement process and fierce competition. Fear not! This article shares essential tips and links to valuable resources designed to help you secure your first federal contract. From understanding the procurement process to showcasing innovation and building strategic relationships, these tips will set you on the path to success in the lucrative federal marketplace.
Whether you're a small business owner or a seasoned entrepreneur looking to enter the government sector, this guide is your go-to resource for navigating the world of federal contracting and ultimately winning your first contract. So, let's dive in and explore these 12 powerful tips to kick-start your federal contracting journey!
Familiarize yourself with the federal procurement process, including key terminology, acronyms, and regulations like the Federal Acquisition Regulation (FAR).


Register your business: Register with the System for Award Management (SAM) to qualify for federal contracts.


Obtain necessary certifications: Pursue relevant certifications like 8(a), HUBZone, or Service-Disabled Veteran-Owned Small Business (SDVOSB), which can improve your chances of securing contracts. Understanding set-aside programs


Develop a strong capability statement: A capability statement should highlight your company's expertise, past performance, and unique selling points to help you stand out among competitors.


Network strategically: Attend industry events, conferences, and webinars to build relationships with potential clients and partners.


Identify target agencies: Research federal agencies that have a demand for your products or services and tailor your marketing efforts accordingly.


Monitor contract opportunities: Regularly check websites like SAM.gov, the Advanced Procurement Portal, and agency-specific procurement sites to stay updated on current and upcoming opportunities.


Collaborate with other businesses: Partnering with other businesses or Teaming can increase your chances of winning a contract by combining resources and expertise. Pursue subcontracting opportunities with prime contractors, which can help you gain valuable experience and build a track record in the federal market.


Submit a responsive and compliant proposal: When submitting a proposal, ensure it is responsive to the solicitation's requirements and compliant with all relevant regulations.


Highlight past performance: Emphasize your company's relevant past performance to demonstrate your ability to complete the contract successfully.




Bonus Tip

Develop a government-specific marketing strategy: Create marketing materials and strategies tailored to the unique needs of the federal government, highlighting your ability to meet their requirements.


Securing your first federal contract may seem challenging, but with these game-changing tips, you'll be well-equipped to navigate the complex world of government procurement. Understanding the process, building relationships, and showcasing your unique capabilities can position your business for success in the federal marketplace.

Remember to be persistent and patient, as landing your first contract may take time and effort. With dedication and the right approach, you'll be on your way to establishing a thriving federal contracting business and tapping into the immense opportunities the government sector offers. Now, it's time to implement these tips and make your mark in federal contracting. Good luck!
To speak with a Registration & Contracting Specialist about getting your first contract, Call: (866) 216-5343