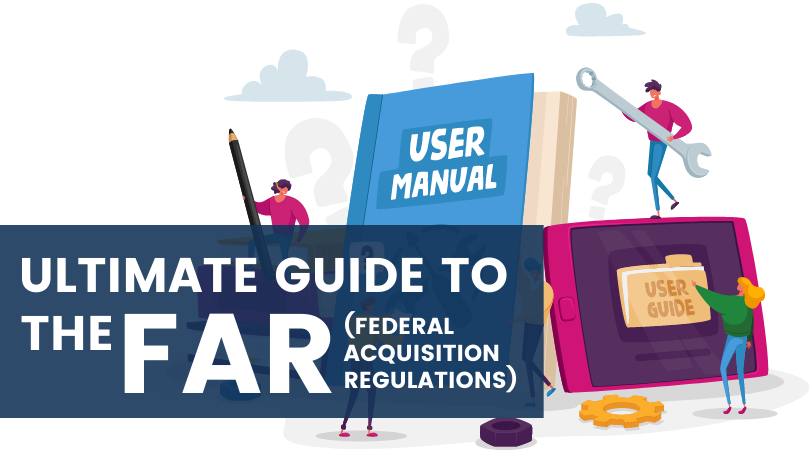 Editor's Note: This post was originally published in March 2020 and has been updated for accuracy and comprehensiveness.
The Federal Acquisition Regulations (FAR) form government solicitations and contracts. As a result, the sections are mostly written for the government officials who are building the contracts. However, businesses shouldn't dismiss the FAR either. Not only do they relate to compliance, but also they can give you a serious advantage in government contracting.
Understanding how the government builds contracts can give help you with bidding, marketing, and networking. The clauses and provisions teach you what you can and cannot do. They can also help you speak the language of your future client.
But where do you start?
USFCR's Training Department has put together the Ultimate Guide to the Federal Acquisition Regulations to direct your attention to some of the most important sections of the FAR (especially if you're a small business).
Table of Contents
This is a comprehensive guide, but we also have a quick guide to the FAR as well.
Start with SAM - FAR & DFARS (Reps & Certs)
The System for Award Management (SAM) will require that you acknowledge some key sections of the FAR before allowing you to compete for federal awards. The government will check this at the time of registration, at the time of renewal, and every time you compete for a federal award. USFCR can provide assistance in making sure that you check the correct boxes with our SAM Registration Service. Here's how you locate your Reps & Certs for reference when contracting officers request it.
Related Blog Post
Read more about the FAR & DFARS Report.
If you haven't registered in SAM yet, you should understand that this is the first requirement for government contractors. USFCR offers a service to guarantee a compliant registration.

FAR Part 11 - Describing Agency Needs
If you can understand agency needs, you can understand your buyer. In this section, you'll learn about the following:
Brand names
Bio-based products
Other restrictions
Buying schedules
FAR Part 13 - Simplified Acquisition Procedures (SAP)
The government often needs to speed up and simplify their acquisition. The benefit to you, the business, is that their simplified acquisition procedures (SAP) make it easier to win government contracts. Generally, purchases under $250,000 are considered eligible for simplified acquisition procedures.
USFCR is the only company in the world to offer The Simplified Acquisition Program.
FAR Part 15 - Contracting by Negotiation
Sometimes a government contract works exactly how you thought it would, through competitive bidding. FAR Part 15 helps you understand the following:
How solicitations for full and open competition are built
How proposals will be analyzed
How offers will be ranked
What constitutes a responsive bid.
Related Blog Post
Read more about FAR Parts 11, 13 & 15.
FAR Part 19 - Small Business Programs
Ever wonder how small businesses compete on the same playing field as Fortune 500 companies? One of the ways is by participating in the small business programs spelled out in FAR Part 19.
Small Business Size Standards
The government defines "small business" with an industry-by-industry classification system. It's important to understand this metric because it determines your eligibility for small business contracts. The government prefers to contract with small businesses whenever possible.
Small Business Programs
As previously mentioned, contracts can be reserved for businesses that qualify as small. To further eliminate competition, specific socio-economic qualifiers create even smaller pools of competition. The small business programs and their respective mandatory spending goals are listed below:
Women-Owned Small Business (WOSB) and Economically Disadvantaged WOSB (EDWOSB) | 5% of the federal contracting budget
Veteran-Owned Small Business (VOSB) | Preferential contracting opportunities through the VA (Vets First Program)
Service-disabled VOSB (SDVOSB) | 3% of the federal contracting budget and the Vets First Program)
Historically-Underutilized Business Zone (HUBZone) | 3% of the federal contracting budget
8(a) Small Business Development Program | 5% of the federal contracting budget
Sole-Source Contracts
There are situations when small businesses can benefit from streamlined "sole-source" contracts. These are contracts that do not have to be completed through the traditional processes. Businesses should understand the circumstances that can lead to sole-source contracts.
Related Blog Post
Read more about FAR Part 19.
FAR Part 22 - Application of Labor Laws to Government Acquisitions
Labor laws in the private sector also affect government contracts. Additionally, there are some specific labor laws unique to government acquisitions. These labor laws are outlined in FAR Part 22.
Wage Determinations
When paying workers or yourself on service contracts with the federal government, there are established "minimum wages." Also known as, Wage Determinations, these numbers will help you with your pricing and help you stay in compliance.
Construction Specific Labor Laws
When it comes to construction in government contracting, things get more specific. Not only is there a whole section of the FAR dedicated to this industry (FAR Part 36), but there are also specific labor laws to consider.
Related Blog Post
Read more about FAR Part 22.

FAR Part 44 -
Subcontracting Policies and Procedures
Government contracting might get all the glory, but subcontracting is worth your consideration too. You can hire subcontractors to work underneath you or you can be a subcontractor yourself. Subcontracting on federal opportunities can help you prove that your business has the ability to work with the government.
Consent to Subcontractors
Government contracting officers must approve subcontractors. The checklist that they use for approval is a section of FAR Part 44.
Subcontracts for Commercial Items and Components
Depending on a product's usage in your contract, you may or may not have to declare the manufacturer as a subcontractor.
Related Blog Post
Read more about subcontracting.
FAR Part 46 - Quality Assurance
The government takes quality assurance very seriously because they are doing business with all types of companies. If they didn't have a way to guarantee the quality, they would be putting themselves in situations with subpar deliverables. Their policies for quality are spelled out in FAR Part 46.
QA on Products vs. QA on Services
QA on products differs from QA on services. The government has a separate checklist for each type of contract.
Quality Assurance Surveillance Plans (QSAP)
It largely falls upon the government to create Quality Assurance Surveillance Plans (QASP), but the government is not an expert in your field. They may ask for your contribution to a quality assurance surveillance plan or you may be able to point out flaws in their plan. In contrast, understanding the government's provided QASP will help you better meet their needs.
Related Blog Post
Read more about FAR Part 46.
FAR Part 52 - Clauses & Provisions
Remember at the beginning of this blog post when we mentioned that the Federal Acquisition Regulations were mostly written for government officials. Well, FAR Part 52, the biggest part of the FAR, is the exception to that rule. This part of the FAR is written for contractors.
FAR Part 52 Numbering Convention
If you've opened any federal solicitations, you've seen the clauses and provisions of FAR Part 52 referenced. Usually, they are referenced with a series of numbers and a short title. After you find them in the solicitation, it's on you to find them in the FAR. In the video below, we detail how to find the clauses and provisions that apply to your solicitation and eventual contract.
FAR Part 52 Ethics Clauses & Provisions
Government contracting is regulated on an extremely high ethical level. You are dealing with matters of national importance when you undertake a government contract. For that reason, it is important to understand the ethics clauses in FAR Part 52.
FAR Part 52 Pricing Clauses & Provisions
You probably have a lot of questions about pricing your offer on government contracts. While each opportunity will pose some unique challenges for your pricing, there are some standards to consider in FAR Part 52. They include, but are not limited to, the following:
Invoicing
Fast Payment Procedures
Taxes
FAR Part 52 Bidding Clauses & Provisions
We saved the best for last. The bidding clauses and provisions of Far Part 52 will affect each and every offer you work on. Following these instructions is make-or-break for government contractors.
Related Blog Post
An additional clause in FAR Part 52 defines The Buy American Act.
Keep Going
This is by no means an exhaustive list of policies and procedures. The Federal Acquisition Regulations are over 1,800 pages and are written in variations for different agencies' unique needs.
If you have further questions send USFCR Training an email and we'll get back to you as soon as possible. You can also sign up for our bid training program for more government contracting knowledge.
If you would like to reference the Federal Acquisition Regulations directly, you can also visit acquisition.gov.
Originally published Mar 25, 2020 12:44:16 PM, updated May 18, 2022